CALIFORNIA
"California, Here we come" Phantom Planet
(click for an awesome Indie rock song from 2002)
We are super excited to kick off our "Buyer's Guide to U.S. Real Estate" series, where we go in-depth into the main U.S. states for property investment purchases, starting with California!
We also have a surprise guest at the end of the month (see bottom of article)!
What's not to love about the Bohemian vibes of San Francisco, the technology center-of-the-universe in Palo Alto, wineries in Napa, food in Yountville, golf in Steinbeck country, the quaint and exclusive Montecito, and year around perfect weather in San Diego.
And finally, Los Angeles – Beverly Hills, Hollywood, Venice Beach, Santa Monica, Bel Air, Pasadena, Orange County – it's almost endless.
It's no surprise that California is a favourite investment destination for our clients, both Overseas Expats and Foreign Nationals, primarily from: the U.K., Canada, Australia, Mexico, China, Hong Kong, Singapore, Philippines, Indonesia, Australia, France, UAE, Germany to name a few.
Want Home Value Appreciation and Rental Income Growth?
Education is key!
Job market growth is certainly a key driver for price appreciation and is normally driven by the new business formation in the area, but popularity as a living destination is driven by things like safety, cost of living, ease of transportation and quality of education, especially for families with young children.
"Popularity as a living destination" in turn drives demand, home value appreciation, and strong growth in rental income.
Why is Education important?
In this week's report, we will take a deep dive into Education – an important (if not the most important) factor for overseas property investors in determining where your next home purchase will be in the U.S.
With Foreign National buyers, in particular, the objective of owning real estate to earn income almost always comes down to "could I live there one day"?
In Asia, where owning property is ingrained in their culture, it's common to purchase an investment property "in anticipation" of sending their child to college. They could even live there during or after they graduate, and the price appreciation could even pay for college if they sell the property. Or, if the child decides to get a job in the U.S., they can stay in the apartment as a post-graduation gift to build up their credit or even rent it out to earn income.
Which are the top high schools in California?
We look at the top 50 high schools in California, both public and private, ranked by average SAT and ACT scores. As you can see, the SAT scores will range from 1300-1500. To get into a top 25 U.S. university, the SAT scores should be at least 1400 as a reference, so these schools are all great.
Why high schools?
Many new immigrants or returning expats will choose to live in areas where there are good schools and a higher population of similar background families (the latter we will investigate next week). High schools are a very important decision since it will determine their experience during these formative years between 14-18 years old but also potential college choices.
"Popularity as a living destination" drives demand, home value appreciation, and strong growth in rental income.
Schools with the highest SAT/ACT scores
– Public: Lynbrook High School, San Jose
– Avg SAT 1450 / ACT 33
– Private: The Nueva School in Hillsborough & Basis Independent in San Jose
– Avg SAT 1510 / ACT 34 for both
Household Income, Home Prices, and Rental Yield
We also look at the Median Household Income, Average Home Prices, and Rental yield in each city. When moving to a new city, aside from the quality of education, most will look at how expensive it will be to live there, own a home, and potential rental income potential.
It's probably no surprise cities like Palo Alto, San Diego, San Jose, Los Angeles, and others will have higher home prices, but we also look at a rough gauge of affordability which is a "Home Price to Income Ratio," which tends to be where most immigrant buyers choose as their base.
Cities with the highest Median Income
– $250,000+ per annum income
– Cities: Piedmont, Hillsborough, Los Altos
– Neighbouring schools: Piedmont High School, Los Altos High
Cities with the highest Home Prices
– $2,000,000+ home price
– Cities: Piedmont, Palo Alto, Hillsborough, Ross, Atherton, Los Alto, Saratoga, San Marino
– Neighbouring schools: Piedmont High School, Los Altos High, Palo Alto High, Henry Gunn, Aragon High, Nueva School, Crystal Springs Uplands, The Branson School, Menlo High, Pinewood School, San Marino High
Highest Rental Yield
>5% gross yield: Riverside
>4% gross yield: Lo Jolla, San Diego, San Jose, Fresno, Irvine, San Clarita
– Neighbouring schools: Riverside STEM Academy, Canyon Crest Academy, Torrey Pines High, Westview High, Del Norte High, The Bishops School, La Jolla Country Day School, Francis Parker School, The Harder School, Basis Independent, Bellamine College Prep, Notre Dame High, University High Fresno, University High Irvine, Woodbridge High, Arnold Beckham High, TVT Community Day School, Academy of the Canyons
America Mortgage Concierge Program
We launched this free service last month to connect potential home buyers with our approved panel of realtors in each major U.S. city, which only focuses on overseas buyers. If you would like to learn more, please contact [email protected].
Our surprise guests!
At the end of August, we will be hosting a webinar with our California partner, who will present a "Guide to California Real Estate" along with a panel of the top realtors in Los Angeles, Orange County, and Bay Area to give you a real "on the ground"feel for all the points we discussed above and more.
Stay tuned…this is going to be amazing!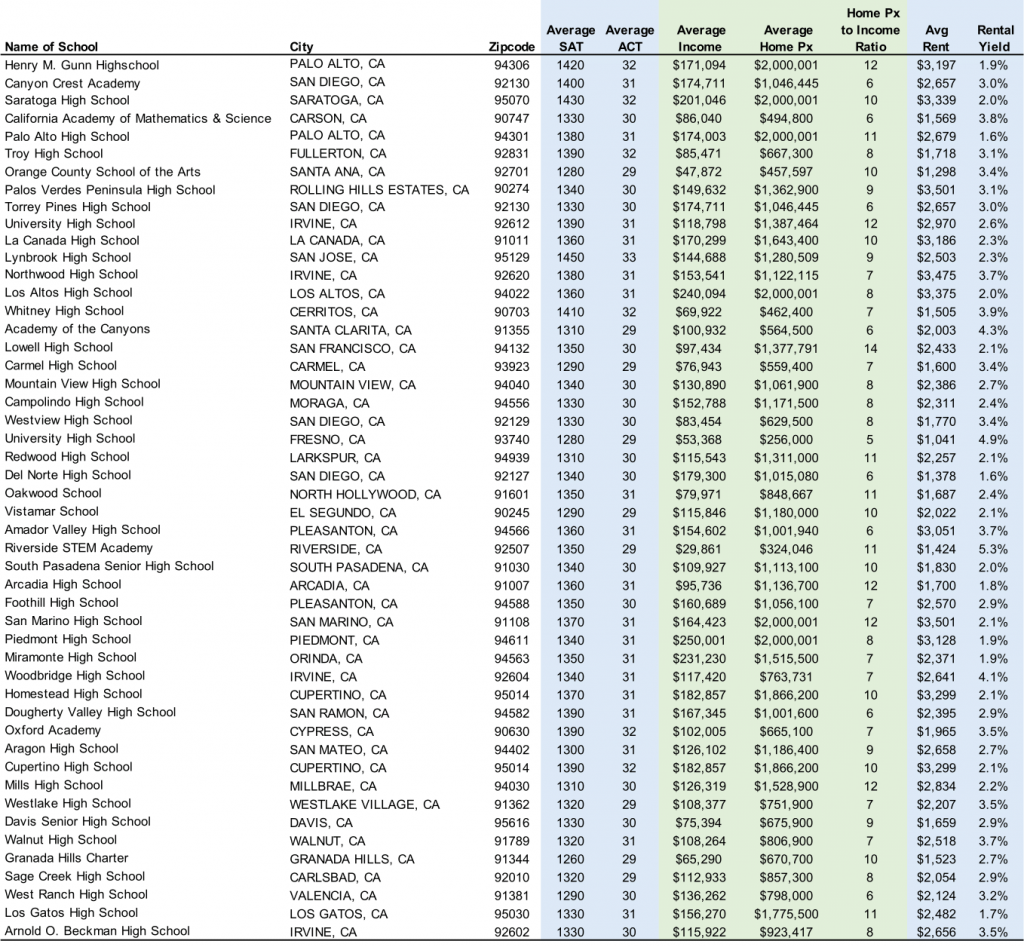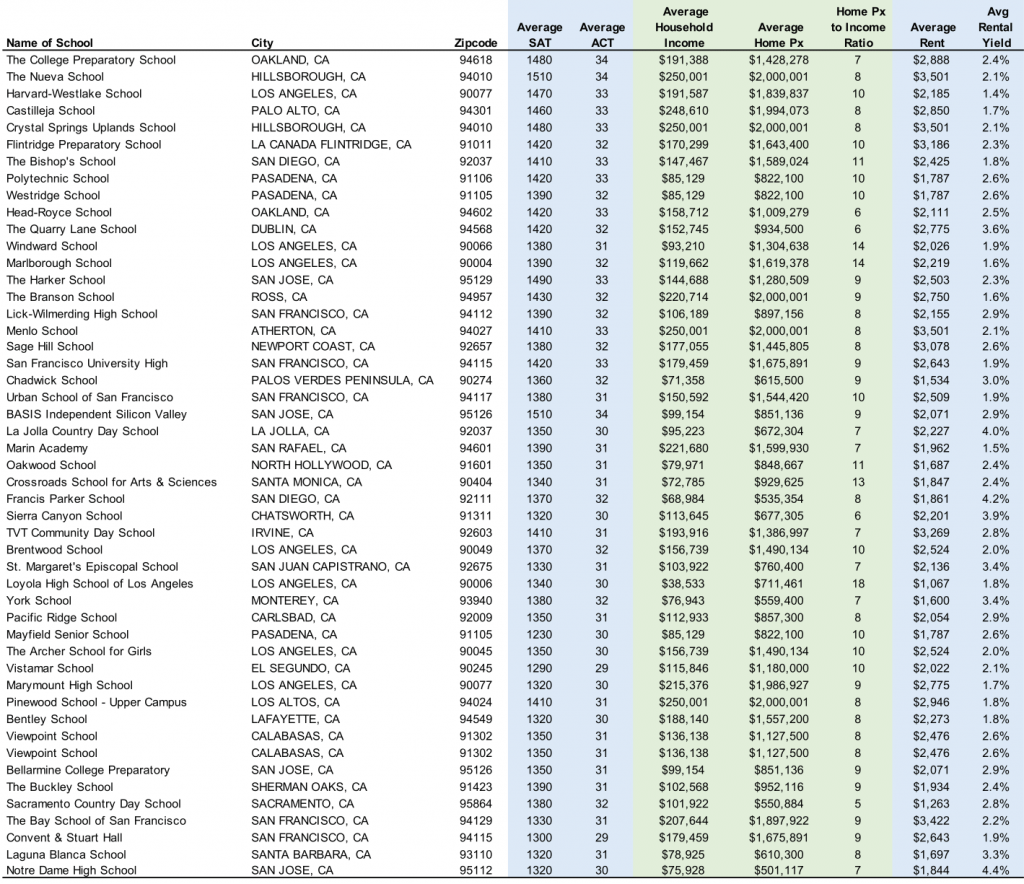 Sources: Niche, City-Data, US News, OECD data, US Census Bureau and respective school websites