Globally real estate markets are red-hot, and even a pandemic can't stop it. For the U.S., mortgage applications for foreigners to purchase U.S. real estate have consistently expanded year-over-year as property prices in most global cities have reached record highs.
What makes the U.S. real estate market so enticing to investors?
Anyone who has invested time and effort in house hunting for investment properties in Hong Kong, Singapore, Paris, London, Sydney, or Vancouver will acknowledge just how inexpensive real estate has become. Markets outside the U.S. have been increasingly hit with various cooling measures, taxes, stamp duty, and mortgage restrictions impacting real estate investors from either entering the market initially or growing their portfolios. What makes the U.S. market unique: there are no restrictions for foreign investment in any real estate asset class. The market also dictates the rise and fall of real estate values, not the government. You can buy a starter property in Texas for $200,000 or a penthouse in Miami for $10,000,000 regardless of your passport.
Below we compare the cost of purchasing real estate in various global and U.S. cities. With up to 75% leverage in all 50 U.S. states, America Mortgages provides an opportunity for anyone to invest in U.S. real estate. You no longer need to battle with banks or pay AUM to become a successful real estate investor.
With U.S. interest rates currently at historic lows, mortgage programs are creative, including qualifying not off your personal income but off the property's rental income, and it is available for both U.S. citizens and Non-U.S. Citizens. The ability to get up to 75% leverage with a 30-year amortization regardless of the borrower's age increases rental yields and the affordability of investment properties. This kind of leverage is available ONLY in the U.S. market.
If you are wondering whether U.S. real estate merits putting your money into, the short answer is yes. Let's look at various global real estate price points versus the U.S.
Price comparison of investment properties: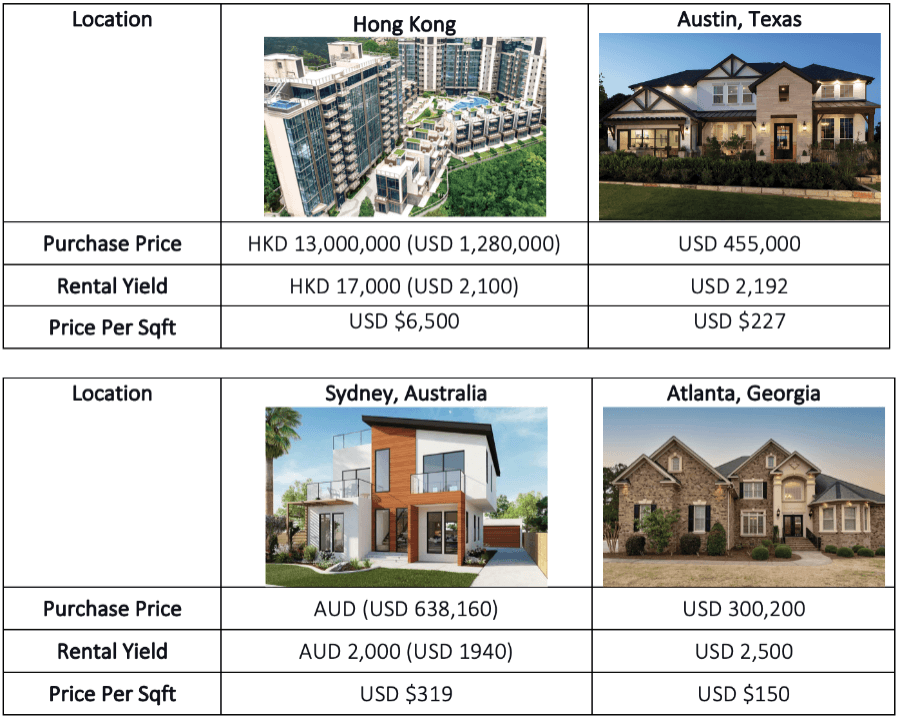 Let's take for example Atlanta, Georgia 2000 sqft home:
Purchase Price: $300,200
LTV: 75%
Loan amount: $225,150
Interest rate: 4.75%
Loan Tenure: 30 years
Monthly Loan repayment: $1,174
Rental Income: $2,500
With the rental yield at $2,500, your monthly repayment is $0 with a profit of $1,326 per month; that's $15,912 per annum. Within 7.5 years, you'd have fully paid off your loan.
Looking at this, we can clearly deduce that the purchase prices and rental yield of a U.S. property prove that it is a great investment, especially when you consider Return on investment (ROI) and the option to finance your property with higher leverage. With purchase prices significantly lower than the rest of the cities globally, your rental income will cover should, at a minimum, cover your mortgage costs. Smart money management and possibly in a few years, will turn into passive income.
According to Billionaire Andrew Carnegie, around 90% of the world's tycoons have been created by investing in real estate. Real estate offers the most ideal way to build wealth as an investor. Likewise, with all possible types of assets and loan programs available, it is ideal to strike when the iron is hot.
If you are keen to invest in U.S. real estate as a U.S. Expat or foreign national, the first step is to get pre-approved for a mortgage. America Mortgages' ONLY focus is providing market-rate mortgage financing for U.S. Expats and Foreign Nationals. Our most popular programs are AM No Income Mortgages+ and AM U.S. Expat Mortgage +. However, if for some reason that doesn't fit your profile or you prefer something more bespoke, our global mortgage team with over 100 years of combined experience is only a phone call away. So investors rejoice and connect with us today at [email protected].