Is it a good idea to invest in U.S. rental properties now? We see this question come up time and time again in today's economy. What is our answer…
Embrace Economic Decline!
In times of economic uncertainty, seasoned real estate investors see opportunity over uncertainty. Historically, the U.S. housing market has been the cornerstone of the global real estate market. Its resilience to bounce back bigger and better every time has created more consistent wealth than any other country in the world. In last week's article, we showcased funds buying massive amounts of U.S. real estate; in this article, we will explain why.
Economic Decline and The Resilience of U.S. Real Estate:
Economic conditions can change unexpectedly, but one constant remains – the lasting value of U.S. real estate as a safe investment. Even when the world economy is uncertain, investors from all over have found a way to build wealth through U.S. real estate. Unlike other investments, real estate doesn't just weather storms; it remains robust. The market's stability and its ability to retain and appreciate value make it a dependable choice for investors looking for long-term financial success.
The Case-Shiller U.S. National Home Price Index shows that the U.S. real estate market has recovered from previous recessions, and home prices have continued to appreciate over time:

This resilience makes U.S. real estate a popular choice for investors seeking long-term financial success.
Diversification and Asset Protection:
When you invest in U.S. real estate, you're not putting your money into one basket; you're broadening your horizons. This diversification isn't just about numbers; it's about safeguarding your assets. U.S. real estate provides a solid foundation for your wealth against the unpredictable tides of economic change. "Given the global geopolitical landscape, our clients tell us that the U.S. offers a safe haven for real estate investments," says Donald Klip, Co-Founder of America Mortgages.
Financing Options and Strategies:
During economic declines, interest rates often decrease, making financing more affordable. Our previous articles discussed how the Federal Reserve may lower interest rates during economic downturns to stimulate and boost the economy. While lower interest rates may seem enticing, it's important to understand that they also trigger increased competition among homebuyers, leading to a buying frenzy. America Mortgages offers financing solutions tailored for expats and foreign nationals, including 30-year and 40-year fixed programs, providing flexibility to suit your financial goals.

One strategy that savvy investors often employ in U.S. real estate is strategically generating rental income to cover mortgage payments. The rent collected covers mortgage payments, offsetting ownership costs and contributing to long-term wealth. To achieve high rental yield, investors usually look for cities with rent potential. Factors such as population growth, job opportunities, and affordability are essential in city selection. Cities like Atlanta, Dallas, and Houston have consistently attracted real estate investors, offering a balanced rental demand and supply equation contributing to stable rental yields. To find out the hottest rental markets in the U.S. in 2023, read here.
It isn't just about securing a property; it's about strategically generating rental income to cover mortgage payments, ensuring a stable financial foundation.
Supply and Demand | The Lack of Available Housing in Today's Market:
According to a recent article from CNN Business, The United States is not building enough homes to account for the number of people setting up their own households. As a result, there is a sizable shortage of new homes after more than a decade of underbuilding relative to population growth, according to a new analysis from Realtor.com released on Wednesday. The gap between single-family housing starts and household formations grew from 5.5 million at the end of 2021 to 6.5 million at the end of 2022 as household formations rose and single-family home construction dropped. This trend of underbuildings can be seen in vacancy rates, both for homeowners and rentals.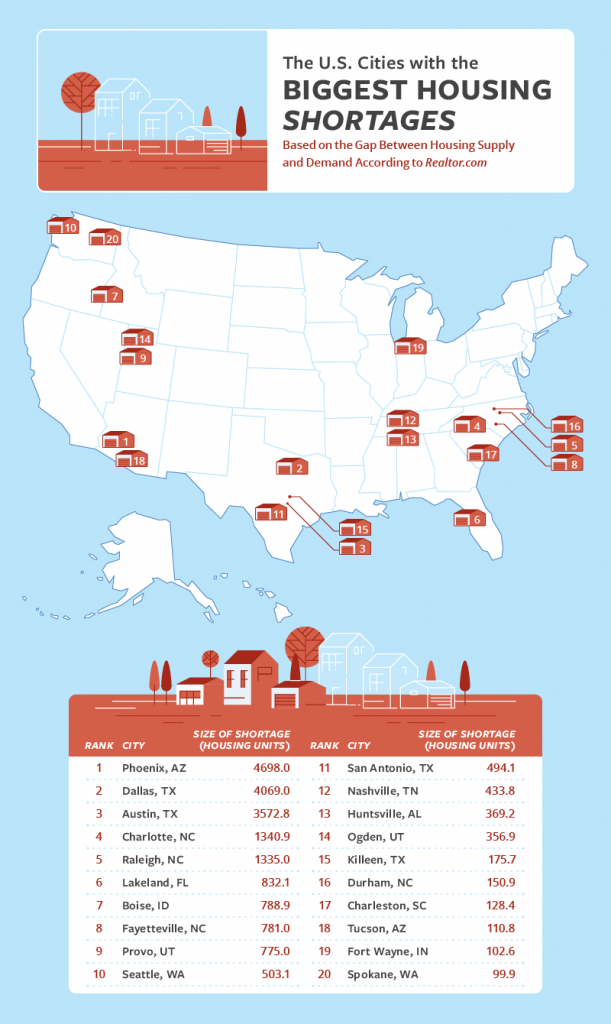 Key Insights
Out of 149 metro areas across the United States, 24 are currently experiencing a housing shortage.
Cities in southern states – like Charlotte, North Carolina, Austin, Texas, and Charleston, South Carolina – are the most represented among the top 20 cities with a housing shortage.
The cost of living in cities like Los Angeles, California, New York, New York, and Boston, Massachusetts, may contribute to a housing surplus.
Houston, Texas, Detroit, Michigan, and Minneapolis, Minnesota, are included in the top 20 cities with the biggest housing surplus despite relatively low costs of living.
Partnering with America Mortgages:
Entering the U.S. real estate market might feel like navigating uncharted waters, but don't worry – America Mortgages is here as your guide. Foreign investors often face unique challenges, but with America Mortgages' team of mortgage experts, you're not alone. Our AM concierge service goes beyond guidance; it's your compass, assisting in property management and unravelling the complexities of the U.S. real estate landscape.
Conclusion:
We believe the U.S. real estate housing market is poised at a crucial juncture as we approach 2024. While uncertainties abound, being informed and staying updated on market trends can significantly aid in making sound investment decisions. Whether you're a first-time homebuyer or a seasoned investor, understanding the housing market predictions can provide a clearer picture as you plan your next move.
"If somebody offers you an amazing opportunity, but you are not sure you can do it, say yes – then learn how to do it later." – Richard Branson
Creating a profitable real estate portfolio is easy when you have the proper guidance, and America Mortgages can provide you with just that. It's not just an investment; it's a journey to a better financial future. Take the leap and let America Mortgages navigate you to long-term financial success. Connect with us today for a no-obligation consultation with one of our globally based U.S. mortgage loan officers; simply use this 24/7 calendar link.