The rental market in the U.S. has been on fire since 2017, and it's only getting hotter. The number of renters has increased by over 10% since then, and this trend is expected to continue for years to come. RentCafe's recent study indicates that this spring, renters are highly active in areas where living is affordable and job opportunities are abundant. This is great news for foreign nationals and U.S. expat investors who are looking to invest in the U.S. rental market.
Rental Trends in the U.S.
The rental market in the U.S. is booming, and it's not just because of the economy.
The rise of remote work has created a huge demand for short-term rentals. People who work from home or travel often need temporary housing while they're away from their permanent homes, and many landlords have taken advantage of this trend by creating short-term apartment rentals that are perfect for people who don't want to commit to long leases but still want access to amenities like laundry facilities or gyms.
The pandemic also had an impact on rental trends: many people lost their homes during this crisis as well as their jobs. This created an increased need for affordable housing options throughout most major cities across America–and many landlords were happy to fill those needs by offering lower prices than ever before!
The Most Popular U.S. Rental Markets
The hottest rental markets in the U.S., according to the RentCafe study, are Atlanta, Kansas City, Albuquerque, and Detroit. These markets share important traits, such as being relatively inexpensive and having healthy economies. This makes them attractive options for foreign nationals and U.S. expat investors who are looking to invest in the U.S. rental market.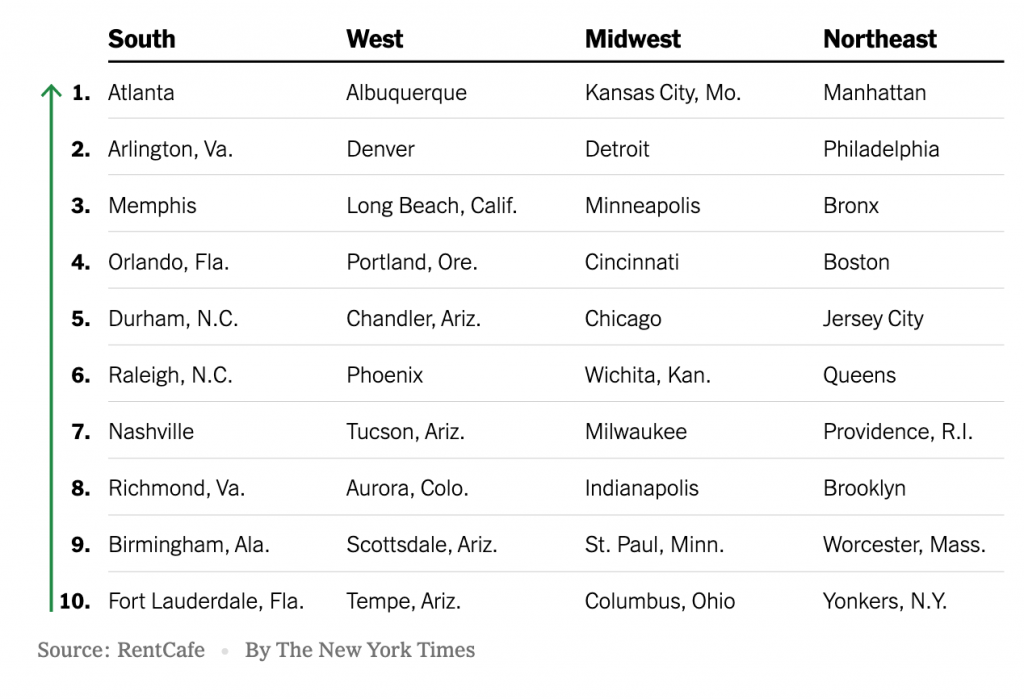 Florida's warm climate and low tax rates have attracted many buyers and renters, with Orlando ranking in the top 10 and Fort Lauderdale placing 25th in RentCafe's study. Properties marked as favorites in these markets have increased by more than 150% in a year, indicating significant interest in these areas.
America Mortgages can help foreign nationals and U.S. expat investors take advantage of these hot rental markets by offering financing options that cater to their unique needs. With the right mortgage, foreign nationals, and U.S. expat investors can invest in the U.S. rental market and take advantage of the opportunities presented by these hot rental markets.
The Benefits of Investing in Rental Properties
You can also benefit from the financial advantages of rental investments. Rental properties have the potential to appreciate in value over time, which means that you can sell your home at a profit or use it as collateral for a loan. In addition, you'll be able to deduct expenses like mortgage interest and property taxes on your federal income tax return each year.
Rental properties are also attractive because they can help diversify your portfolio by providing an additional source of income outside of stocks and bonds. If you live in an area where housing prices are rising quickly–or if you're looking for an investment that will provide more stability than stocks do–rental properties may be worth considering as part of your overall financial strategy.
The rental market in the U.S. is booming. If you're looking to invest in real estate, now is the time!
America Mortgages can help non-resident investors with financing needs by offering a range of mortgage options that cater to your unique needs. For example, we offer non-QM loans, which are designed for borrowers who do not meet traditional lending requirements, such as foreign nationals and U.S. expat investors.
Here are our most popular loan programs for U.S. expats and foreign nationals.
These loans often have more flexible underwriting guidelines, making it easier for these borrowers to secure financing. With a team of experienced professionals and a commitment to personalized service, America Mortgages can help you achieve your goals. Get in touch today to learn more at [email protected] or visit www.americamortgages.com.