The Federal Reserve's interest rate decisions play a significant role in the real estate market, impacting investors in different ways. This article explores two perspectives on how Fed interest rate decisions can affect foreign national investors and U.S. expat investors in the real estate market.
Point of View 1: The Fed Will Raise Interest Rates
"The Federal Reserve's job is to do the right thing, to take the long-run interest of the economy to heart, and that sometimes means being unpopular. But we have to do the right thing." – Ben Bernanke, Former Chairman of the Federal Reserve.
Impact on the Real Estate Market:
If the Fed raises interest rates, it becomes more expensive to borrow money. This will likely cool the housing market further, discouraging potential owner-occupied buyers with higher mortgage rates and potentially, in some markets, could lead to a decrease in property prices. Comparing interest rates to post-Covid, many view this as a "high-interest rate environment"; however, it's essential to note that U.S. mortgage rates, even with recent increases, still remain historically low.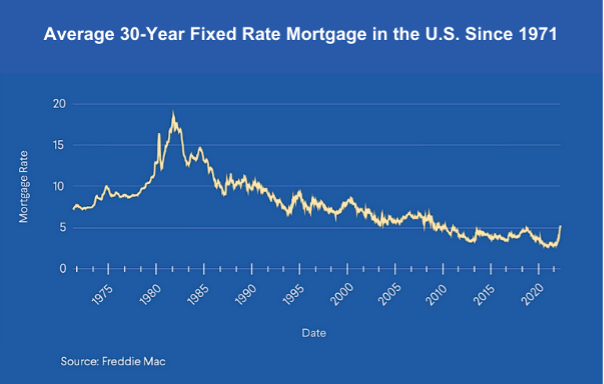 Investors who act now may benefit from several advantages:

1. Future Refinancing Potential: What goes up, must come down. If the Fed decides to reduce interest rates in future cycles, property owners can explore refinancing options for lower mortgage rates, reducing monthly payments, and releasing equity for other investments or property improvements.

2. Stable Mortgage Payments with 30-Year Fixed: Opting for a 30 or 40-year fixed-rate mortgage period provides stability and predictability in mortgage payments, even if the Fed raises rates. This not only provides investors with financial security but also grants them peace of mind, as they have a clear, unchanging monthly payment to budget for.

3. Affordability and Negotiation Power: The fear of further rate increases may lead some potential investors and many owner-occupied buyers to remain on the sidelines, assuming it's a high-interest rate environment. In reality, if the property is purchased as a rental investment, interest rates are still favorable. Investors who act now not only secure fixed rates but maintain their affordability advantage. Moreover, they tend to be in a position of power to negotiate deals that did not exist when rates were low.

4. Everything is Cyclical: Again, what goes up, must come down. If you're able to take advantage of the current buyer's market and purchase a property with favourable terms now when interest rates go back down to 4-5%, the FOMO frenzy will happen again, and likely, property prices will appreciate quickly.
Will the Fed's Interest Rate Hikes Make Rental Yields Unattainable?
As interest rates rise, it becomes tougher for homebuyers to afford their dream properties. This creates an ideal scenario for real estate investors as more individuals opt for renting. As the number of people unable to buy or choosing to wait grows, rental prices go up. This ongoing trend boosts rental yields, even in the face of higher interest rates. This highlights the importance of timing for potential real estate investors, especially foreign nationals and U.S. expats.
In summary, the current market landscape presents an opportune moment for investors to make strategic real estate purchases. By recognizing that interest rates, even if they rise, are still overall historically low, investors can secure stable mortgage payments, preserve negotiation power, and position themselves to capitalize on potential future interest rate reductions through refinancing. Now is the time to act and benefit from the unique advantages offered in today's real estate market.
Point of View 2: The Fed Will Hold Steady or Start Decreasing Interest Rates
If the Federal Reserve keeps interest rates where they are or even lowers them, it could have some notable effects on the real estate market. Lower rates tend to make homes more affordable, which can attract more buyers and potentially push property prices higher.
Impact on Housing Prices:
If the Fed maintains or decreases interest rates, it can stimulate housing prices. Lower rates enhance affordability, attracting more buyers and potentially driving property values higher.
Will People Sitting on the Sidelines Jump Back into the Market?
Lower interest rates can serve as a catalyst for individuals who have been patiently waiting on the sidelines. Reduced borrowing costs make homeownership more accessible, motivating potential buyers to enter the market. This surge in demand could create a favorable environment for those who have already invested in real estate.
Potential for Refinancing:
Date the Rate. Marry the Property. One strategic advantage of buying real estate now, especially when interest rates are low, is the possibility of future refinancing. If the Fed does indeed decrease interest rates in the future, investors can explore refinancing options to secure even lower mortgage rates. This not only reduces monthly payments but also allows investors to release equity for other investment opportunities or property improvements.
Impact on Foreign National Investors and U.S. Expat Investors:
Lower interest rates can make U.S. real estate investments more attractive to foreign national investors and U.S. expats. Reduced borrowing costs in U.S. dollars can create financial advantages for entering the American real estate market.
In conclusion, acting now in the real estate market while interest rates remain favorable presents a dual opportunity: the potential for immediate returns through rental yields and the prospect of future refinancing benefits should the Fed decide to reduce interest rates further.
At America Mortgages, we know the Fed's interest rate decisions can be uncertain for foreign national and U.S. expat investors. We're here to help. Our experienced loan officers can clarify how these decisions impact your investments. Don't wait – secure the ideal mortgage for your needs and unleash your real estate investment potential.

Contact us today to get started on achieving your investment goals. [email protected]