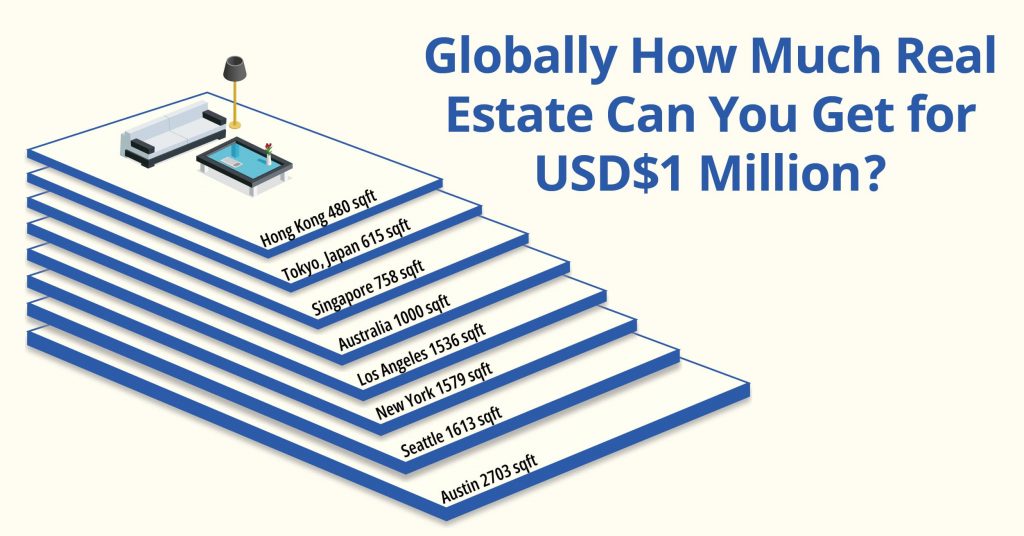 As a foreign national or U.S. expat investor, real estate remains one of the wisest and most lucrative investments one can make. With technology making the world smaller every day, there is no reason investors shouldn't be searching out opportunities globally. However, when looking to invest in real estate, getting the best bang for your buck will help you get the most out of your investment when your property appreciates. Investing in global cities might not get you the profits you are looking for.
Below is a list of how many square feet of real estate you can buy for $1 million in 8 different cities around the world.


Austin, Texas
Austin has become a hot spot for real estate investors because of its continued growth and high demand. The state reported a population of about 960,000 in 2020, a 21.7% increase over 10 years. It is one of the best-performing U.S. metro areas for business. While 2020 hit the economies of most U.S. cities hard, Austin added over 11,000 jobs. It's home to advanced manufacturing, cleantech, digital tech, financial services, and space tech. If you are looking to buy property in the USA, Austin should be somewhere near the top of your list.
Average Price Per Square Foot — $370
Square Feet for $1 million — 2,702
Seattle, Washington
A seaport city on America's North-West Coast, Seattle is the largest city in Washington. Due to low mortgage rates, real estate sales in Seattle have remained robust in 2021 and 2022. A 2021 report from The Urban Land Institute (ULI) named Seattle as a boomtown, drawing in talented young workers. The local economy is expected to continue to grow, putting upward pressure on the price of real estate.
Average Price Per Square Foot — $620
Square Feet for $1 million — 1,613
New York, New York
New York is the most densely populated city in the United States, with almost 9 million people distributed over 300.46 square miles and over 20 million people in its metropolitan statistical area. Over the past decade, the city has continued to grow, gaining 629,000 residents between 2010 and 2020, more than any other city in the U.S. With its history as a port of entry for immigrants, New York is extremely diverse, and about 37% of its population is foreign born. In 2021, the city saw its highest sales volume since 1989 due to New York's low mortgage rates, pandemic-related pent-up demand, and the reopening of the economy.
Average Price Per Square Foot — $633
Square Feet for $1 million — 1,579
Los Angeles, California
Southern California is known for its year-round sunshine and overall excellent climate. Los Angeles is the second-largest country in the United States and boasts a stable job market, and is an excellent place for buying-to-let opportunities. It's important to note that there are vast differences between neighbourhoods in L.A.; some are safe, expensive, and home to Hollywood elites, like Beverly Hills, while others have high crime and poverty rates.
Average Price Per Square Foot — $651
Square Feet for $1 million — 1,536
Sydney, Australia
Sydney was the strongest performing Australian housing market in 2021, with property values increasing in nearly every area of Sydney. Some locations experienced as much as a 24% growth in housing prices. Among the global cities we compare, Sydney ranked 1st.
Average Price Per Square Foot — $1,042
Square Feet for $1 million — 1,000
Singapore
Singapore's property market has a strong reputation as a solid investment sector. The island city-state boasts a highly developed market economy and is widely regarded as a free, innovative, and dynamic place to do business. Despite the pandemic, Singapore's housing market has remained relatively healthy, with house prices rising by 2.16% year-over-year in 2020. This continued increase in housing prices signals strong demand.
Average Price Per Square Foot — $1,319
Square Feet for $1 million — 758
Tokyo, Japan
Japan remains the third-largest economy in the world, with many of its prefectures and regions having economies larger than even developed countries. Measured in terms of economic strength, Tokyo is the world's largest city. It is home to a number of major corporations and attracts plenty of foreign businesses as a result of good working standards and a welcoming tax environment.
Average Price Per Square Foot — $1,626
Square Feet for $1 million — 615
Hong Kong
Hong Kong is the world's most expensive city for real estate. However, the city is economically vibrant and relatively stable. Its low taxes, business-friendly policies, and excellent location have made it a favourite of investors around the world. Until 1997, Hong Kong was still a British Colony and has historically served as an important trade port, leading to its current prosperity.
Average Price Per Square Foot — $2,082
Square Feet for $1 million — 480
In comparison, the U.S. cities give you the best value for your money per sqft, and no global city seems to come close to it. Based on our list, if we compare the most affordable U.S. city – Austin, and the most affordable global city – Australia, the price per square foot in Sydney is 2.8x that of Austin's! If this doesn't convince you to set your sights on U.S. property, take a look at the rest of the cities:
Price comparison per Sqft:

All of the global cities price per sqft are double if not triple that of U.S. cities. Investing in U.S. real estate might just help you get the best value for your money and prove itself to be a lucrative investment opportunity.
At America Mortgages, our only focus is to provide mortgage financing solutions to foreign nationals and U.S. expat investors. This is all we do, and no one does it better.
Ready to start your journey? Arrange a no-obligation call with one of our loan specialists today. [email protected].